Hearing Services of Virginia
Hear Better, Live Better
What have you been missing?
Why Chose Hearing Services of Virginia?
Personalized, Hometown Style of Service
We pride ourselves on professional hearing healthcare with a home-town, highly personalized level of service. Our goal is to provide each of our patients with better hearing so they can enjoy every moment in life instead asking "What?" all the time or worse, simply removing yourself from conversations. We want you to be in on the conversation around you. Everyone has something to share with you and they're waiting for you to share your stories with them as well.
Compassionate and Professional Audiology Services
Unlike other hearing healthcare centers, Hearing Services of Virginia is owned and managed by a Doctor of Audiology, Dr. Molly Howlett. Her passion for improving the hearing and lives of her patients drives a service first approach. Whether you need the most advanced hearing aids we offer or just a simple ear wax removal, your ability to hear and overall health and are our number one priority.
Molly Howlett, Au.D., CCC-A
Dr. Molly Howlett earned her Bachelor of Science degree in Communication Disorders from Marywood University in Dunmore, Pennsylvania and her Master of Science in Audiology from Towson State University in Towson, Maryland. She completed her clinical fellowship at Ear, Nose and Throat, Ltd. In Norfolk, and continued to provide services there for several years. In 1999, she joined Eastern Virginia Medical School as a Clinical Audiologist, providing services at DePaul Hearing and Balance Center as well as the Children's Hospital of the King's Daughters. Dr. Howlett has also provided clinical services at the Department of Veteran's affairs in Hampton, Virginia. In 2000, Dr. Howlett returned to school and in 2002 earned her Doctor of Audiology degree form Arizona School of Health Sciences, part of Kirksville College of Osteopathic Medicine, Mesa, Arizona. Dr. Howlett has spent the past 14 years in private practice providing hearing healthcare to patients of all ages at Hearing Services of Hampton Roads as well as Virginia Hearing Consultants. Dr. Howlett founded Hearing Services of Virginia in 2011 located in Virginia Beach, Virginia. Dr. Howlett is certified by the American Speech and Hearing Associated and is a fellow of the American Academy of Audiology. Dr Howlett and her husband Danny reside in Thalia area of Virginia Beach. They enjoy boating and going to concerts.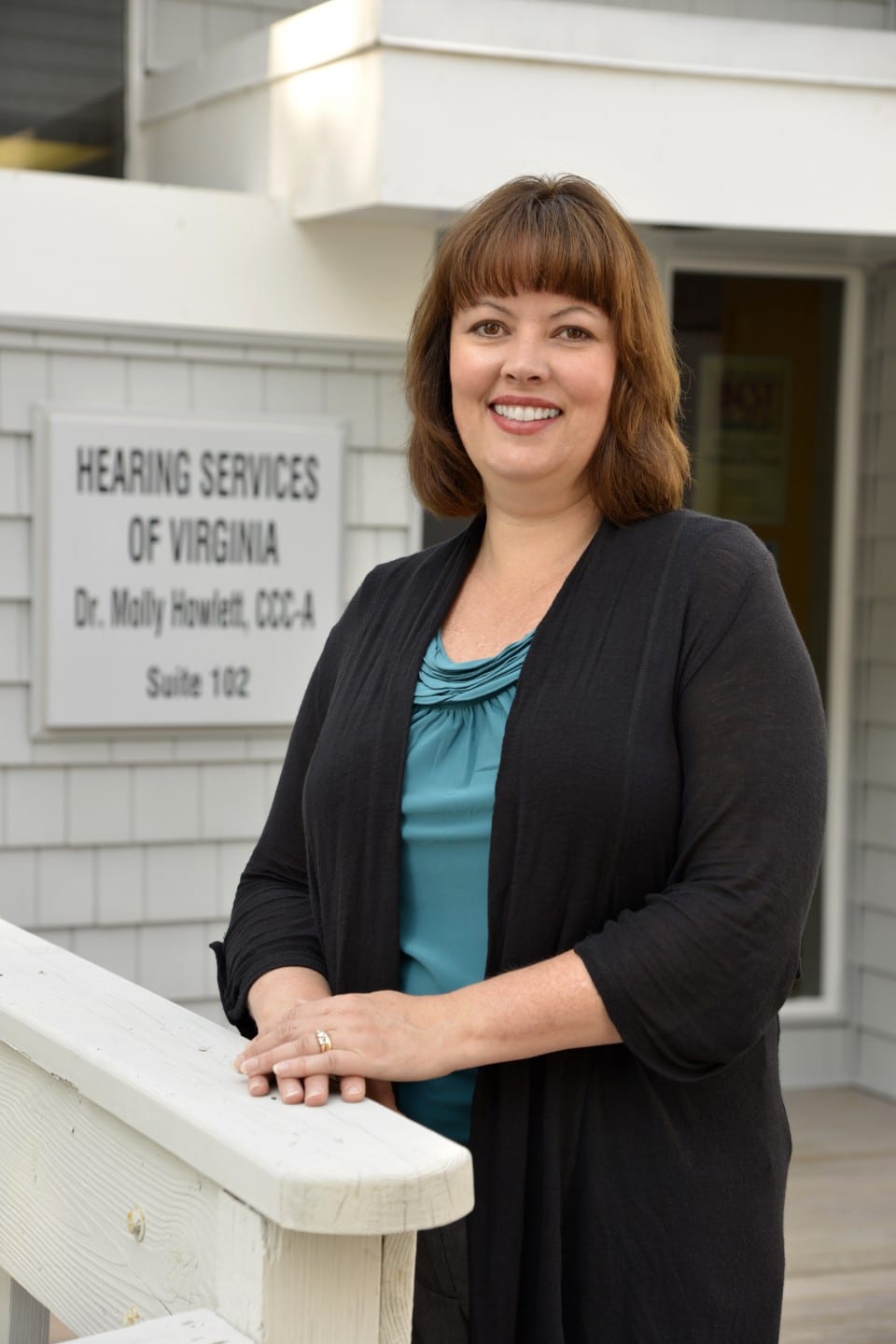 Dr. Molly Howlett
Whether you are in need of hearing aids, a hearing test or tinnitus treatment, Dr. Howlett is highly rated for all hearing healthcare.
Long Term Partnership
Choosing a hearing professional is one of the most important decisions you will ever make and the personal relationships you will develop with our staff will continue long after your initial appointment. 
Ongoing Care
Ongoing counseling, periodic adjustments and regular hearing aid cleanings are vital to your continued satisfaction with your investment in better hearing. We are committed to being here to support your every need.
State of the Art
Attuned to the latest advances and products in hearing healthcare, we provide our patients with state of the art technology. Every product we sell includes the highest level of customer service from our experienced, trusted team.
Contact Us
We promise we don't send spam
Address
4356 Bonney Road
Bldg.1, Suite 102
Virginia Beach, VA 23452